The proposal is structured into seven Work Packages (WP) to develop the project's methodology.
Apart from WP1 that addresses the project's coordination and management, the rest are presented here: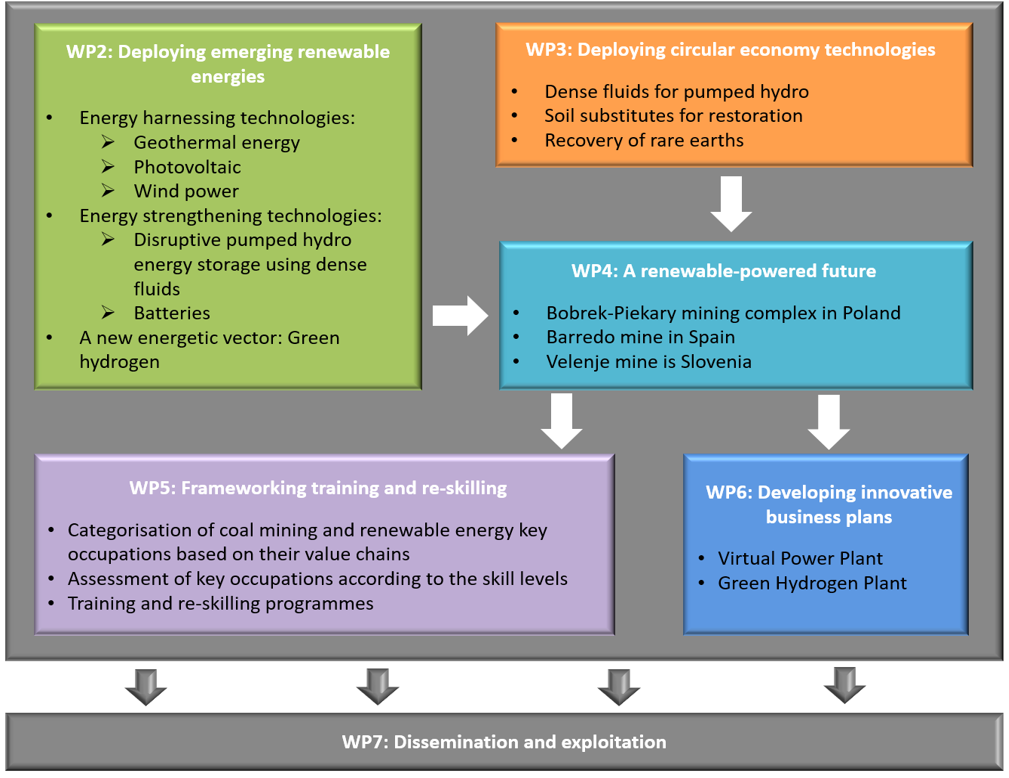 Work Package 1: PROJECT COORDINATION AND MANAGEMENT
In this work package, all the coordination tasks are included: overall technical coordination of the project; organisation and management of meetings; distribution of technical data and information among partners; preparation of minutes and integration of reports; and administrative issues, including relations with the European Commission.
Work Package 2: DEPLOYING EMERGING RENEWABLE ENERGIES
First, this work package will analyse the technical specifications, cost data and operational constraints and develop a detailed assessment of the job creation potential per MW installed, for commissioning and operation, for the deployment of energy harnessing technologies. In this way, coal mining companies will be able to assess the available renewable resources, as well as identify which options are optimal in terms of cost-benefit and employment for the conditions in the study area.
Second, to maintain a competitive supply of electricity, energy storage is necessary. Storage can absorb excess electricity generation and re-inject it later, effectively reducing curtailment due to excess generation or demand constraints. It can do this both in a market or in a vertically integrated environment. This work package will therefore undergo an equally detailed analysis for the deployment of the selected energy strengthening technologies needed to support the available renewable resources, as well as a detailed assessment of the job creation potential per MWh-MW of storage capacity.
Third, this work package will undergo a detailed assessment of a new energetic vector: Green hydrogen, produced by the electrolysis of water and electricity from renewable sources. It is a clear alternative to selling renewable energy to the grid or to power electro-intensive industries with constant energy consumption. Again, technical specifications, cost data, and operational constraints will be analysed. A detailed assessment of job creation potential per MW installed or per MW of electrolysers capacity installed for commissioning and operation will be developed.
Work Package 3: DEPLOYING CIRCULAR ECONOMY TECHNOLOGIES
This work package will develop a detailed assessment of circular economy technologies based on the valorisation of fine coal waste, a by-product of coal processing often stored in landfills, which directly addresses and complements the project's specific needs. As in the previous work package, technical specifications, cost data, and operational constraints will be analysed, and job creation potential based on the production capacity for commissioning and operation will be assessed.
Work Package 4: A RENEWABLE-POWERED FUTURE
GreenJOBS will use three case studies to plan site-specific deployments of the emerging renewable energies and circular economy technologies addressed in the previous two work packages, to develop a renewable-powered future for these areas, focusing on the flexibility of the energy systems and the complementarity of circular economy technologies. Flexibility is the leading enabler of renewable energy integration. It can be defined as the ability to cope with the variability and uncertainty introduced by renewable energies on different time scales, from the very short to the long term, avoiding energy curtailments.
Case studies were selected to cover main types of underground coal mining: (1) underground longwall mining in Poland with sub-horizontal hard coal seams; (2) underground sub-level caving in Spain with sub-vertical hard coal seams; and (3) underground longwall top coal caving in Slovenia with one of the thickest known lignite seams in the world.
Work Package 5: FRAMEWORKING TRAINING AND RE-SKILLING
In this work package, GreenJOBS will address the skill gaps of former coal mining workers in the three case studies to establish the workforce's training and re-skilling needs to facilitate the development of the envisaged business alternatives.
A feature of coal mining is that many of the technical skills required vary little between countries and that some of the skills required for operating and maintaining coal mines can be adapted to the operation and maintenance of renewable energies.
Work Package 6: DEVELOPING INNOVATIVE BUSINESS PLANS
Based on the experience gained in the three case studies where specific deployments of emerging renewable energy and circular economy technologies were considered, this work package will develop an innovative business plan for each business alternative considered within the case studies: one for a Virtual Power Plant and one for a Green Hydrogen Plant.
Work Package 7: DISSEMINATION & EXPLOITATION
This work package concerns the activities to be carried out to support the communication and dissemination of GreenJOBS knowledge and results to the entire European coal industry, the energy-intensive industry, the European Commission, academia and coal regions in transition (including regional authorities, civil society and other stakeholders), as well as to maximise the exploitation of project results by end-of-life underground coal mines.